21.10.2016
On 21 October 2016, Frank Schauff, AEB CEO, participated in the session "Innovation infrastructure in Greater Eurasia" in the frame of the Fifth Eurasian Forum that took place in Verona in the Palace of the Gran Guardia (Palazzo della Gran Guardia).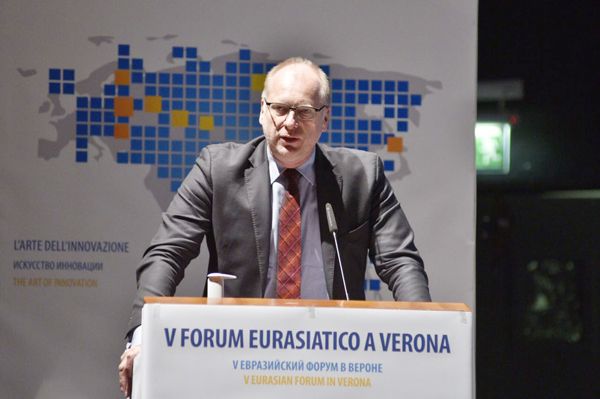 The Forum was organised by the Association Conoscere Eurasia and the Roscongress Foundation with the information support of the AEB.
Among the key speakers of the session were Gregorio De Felice, Chief Economist of Intesa Sanpaolo Group, Chen Ning, Executive Chairman of ITTN, Alberto Mazzola, Head of International Affairs of Ferrovie dello Stato Italiane, and others.
The main subjects of the forum in Verona were the geopolitical processes in the Greater Eurasia and innovations as a result of the everyday creativity. Under these topics the participants discussed the key issues in economics, finances, energy, geopolitics, innovative infrastructure, agriculture and agribusiness. Special attention was attached to the new models of the economic cooperation in the conditions of the global crisis and to the interregional cooperation.
The Forum traditionally brought together key representatives of the public authorities and business community of Russia, Italy, Azerbaijan, Armenia, Belorussia, Germany, India, Kazakhstan, China, France and South Korea.
Photo: Frank Schauff, AEB CEO