27.10.2016
On 27 October 2016, the AEB held a session on "Technological Aspects of Joining the Asian Super Ring" at the Forum Open Innovations. The session was organised by the AEB Working Group on modernization and innovations and was moderated by Michael Akim, Chairman of the Working Group, Vice-President at ABB Russia.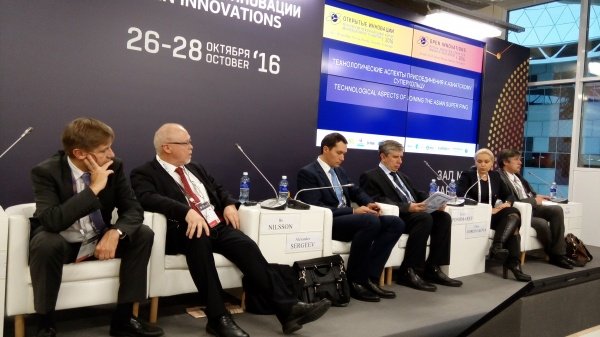 The AEB was also represented by the member of the AEB Board and Chairman of the AEB Machine Building and Engineering Committee, President of Alstom Russia Philippe Pegorier. Among other speakers were: Elena Gorchakova, Executive assistant of the Minister, Ministry for the Development of the Russian Far East; Bo Nilsson, Head of Sales Middle East Africa, ABB AB, Sweden; Alexander Sergeev, En+ Group and Alexey Ponomarev, Vice-president for strategy and relations with industry, Skoltech. The session aimed to discuss and analyze the necessary steps to implement the energy ring project, which would connect together Russia, China, South Korea and Japan which was recently proposed by the RF President Vladimir Putin. 
The Moscow International Forum for Innovative Development "Open innovations" is an annual forum dedicated to new technologies and prospects for international cooperation in the field of innovation. It aims to provide exchange of practical experience, the promotion of leading research studies and development projects, the creation of new mechanisms of international cooperation in the field of innovation. It has been held in Moscow under the auspices of the Russian Government since 2012. This year, the Forum took place in Skolkovo Technopark. On 26–28 October 2016, it will host more than 90 various events organized in an interactive format: from panel discussions, presentations and lectures to workshops, pitch sessions and hackathons.