08.04.2015
On
April 8th, 2015
,  the AEB PR & Communications Committee held  open event
"How Does Investment Climate Influence Business Communications? What Has Changed?" 

Changes to the investment climate in Russia and the cool-down in international relations are leading to a change in the paradigm of the communications agenda. The current situation gives rise to the following questions, which were discussed at the event:
Among the discussed topics were:
∙ What do foreign companies and investors operating in Russia or planning to work with Russia need to take into consideration?
∙ How can companies maintain communications in Russia in today's conditions?
∙ What threat is posed by import substitution policies? What are the advantages for Russian companies? What measures is the state able to offer foreign investors and companies?
∙ Is it possible to speak the same language – the language of business?
∙ What are the communications trends in the Russian and international media in relation to foreign and domestic companies operating in Russia?
∙ What are the benchmarks; i.e., what can be trusted in terms of political and economic sanctions for doing business in Russia?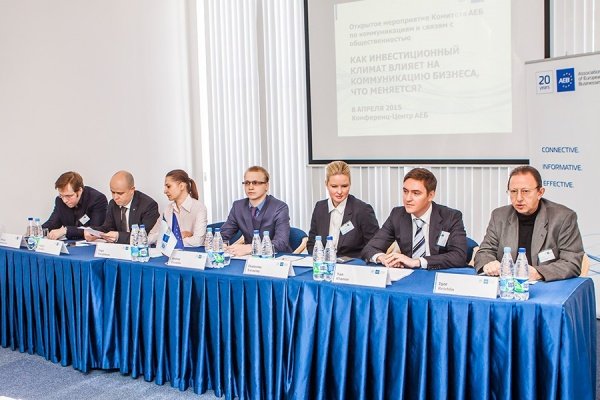 The event was co-moderated by Igor Reichlin, Chair of the AEB PR & Communications Committee, Managing Partner, Reichlin & Partners, and Yan Khanov, Managing Partner, Publicity.
L-R: 
- Alexey Bobrovsky, Anchorman, Russia 24 TV Channel
- Evgeny Novikov, PR-Director, "Delovaya Rossiya" 
- Inga Vorobieva, Head of Press Service, "Special Economic Zones" JSC
- Andrey Gorodov,  Department of Science, Industrial Policy and Entrepreneurship of Moscow City
- Ekaterina Karasina,  External Communications Managing Director, Export Insurance Agency of Russia (EXIAR)
- Yan Khanov, Managing Partner, Publicity agency
- Igor Reichlin, Chair of the AEB PR & Communications Committee, Managing Partner, Reichlin & Partners