04.10.2018
On October 4th, 2018, in the framework of the Russian Energy Week, the AEB held a panel discussion on the prospects for partnership between Russia and the EU in energy and energy efficiency sectors.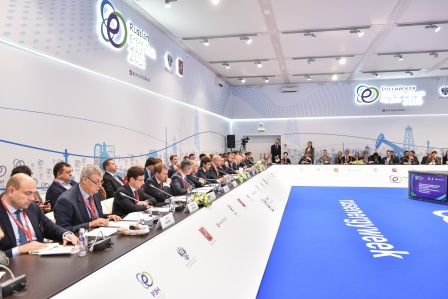 Among speakers of the panel were:
Eric Benedetti, Market Manager for Russia, Ukraine and Central Asia, Signify
David Campbell, President BP Russia
Bashir Chalabi, Chairman of the АЕВ Energy Efficiency Committee, Senior Advisor for Energy Efficiency and Environment, Promaco TR
Ernesto Ferlenghi, Chairman of the AEB Energy Committee
Patrick Fragman, Managing Director, Grid Integration Business, ABB Group
Viktor Haefeli, Senior Advisor, Federal Department of the Environment, Transport, Energy and Communications of the Swiss Confederation, Vice-President of the Swiss Association for Environmental Technology 
Anton Inyutsyn, Deputy Minister, RF Ministry of Energy
Arnaud Le Foll, Country Chair, Total E&P Russie
Alexander Liberov, President & CEO, Siemens in Russia, member of the AEB Board
Alexander Pankin, Deputy Minister, RF Ministry of Foreign Affairs
Johan Vanderplaetse, Chairman of the Board, Association of European Businesses in Russia (AEB); President Russia/CIS, Senior Vice-President Schneider Electric 
The panel was moderated by Frank Schauff, the AEB CEO.
The participants discussed the potential of scientific and technical cooperation in the energy and energy efficiency spheres and the role of businesses in strengthening the cooperation.
Photo: Roscongress Photobank (c)