11.12.2017
On December 7, 2017 the AEB Safety, Health, Environment and Security Committee held a conference: "HSE risk management in Russia: opportunities and challenges".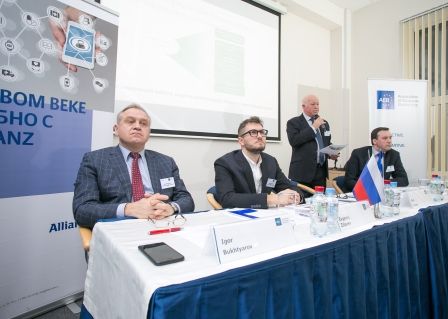 Rick Graves, BP; Tatyana Bobrovitskaya, Shell; Valery Kucherov, ERM; Anastasia Burtseva, Orica; Kirill Katalevskiy, Saint-Gobain; Pavel Mitrokhin, Oriflame; Ivan Komandny, Allianz; Konstantin von Vietinghoff-Scheel, Corporate Counselling Services and Igor Bukhtyarov, Russian Institute for Occupational Health shared their expertise and provide an excellent platform for discussion and exchange of knowledge by professionals. 
The event was moderated by Valery Kucherov, SHES Committee Chairman, ERM Eurasia; Chris Mawer,  BP;  Konstantin von Vietinghoff-Scheel, Managing Director, Corporate Counselling Services.
Photo: L.-R.: Igor Bukhtyarov, Russian Institute for Occupational Health; Zibarev Evgeny, Russian Institute for Occupational Health; Rick Graves, BP; Valery Kucherov, ERM;
The full photo report is available 
HERE