28.08.2018
On 28 August 2018, the AEB in cooperation with the international exhibition operator ITEMF Expo opened the 9th International Moscow Automotive Forum - IMAF 2018. The Forum takes place in the Central Exhibition Hall "Expocenter" as a part of the MIMS Automechanika Moscow 2018 exhibition.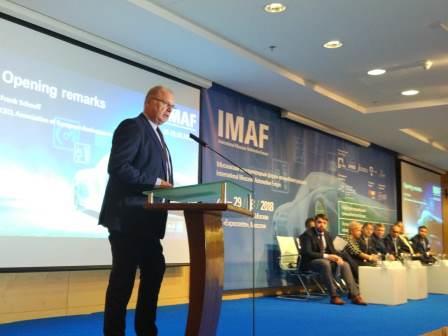 This year, the main theme of the Forum is "
The new stage of the automotive industry in Russia
." 
Frank Schauff, AEB CEO, and Michael Johannes, Vice President, Messe Frankfurt GmbH, Brand Manager, Automechanika, made the opening remarks.
The first day was devoted to innovations in the automotive industry, electric cars, and self-driving cars. Among the speakers of the plenary session were: Vyacheslav Burmistrov, Deputy Director, Department of Technical Regulation and Accreditation, EEC; Yves Caracatzanis, President, Avtovaz; Stefan Teuchert, CEO, BMW Group Russia; Alexey Volodin, Managing Director, Peugeot Citroen Rus, and others.
The second day of the Forum is dedicated to discussions on the localization of manufacturing by purchasers and suppliers.