10.11.2017
On 9 November 2017, a briefing by Gabriel Di Bella, Resident Representative of the International Monetary Fund in the Russian Federation - "Russia: In Search of a New Growth Model",  took place at the AEB Conference center.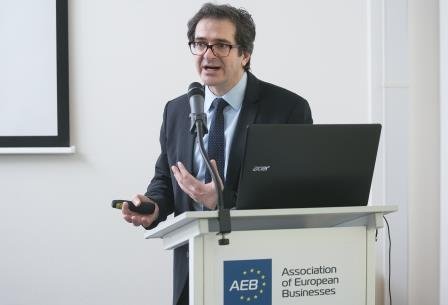 In his presentation G.Di Bella has noted that  Russia was stabilized in 2016 after external shocks; that the conditions for a mild cyclical rebound in 2017-2018 were in place. He has also analyzed  the macroeconomic policies in 2018-2020, risk factors, state footprint, fiscal policy, market situation etc.
The briefing was co-moderated by Stuart Lawson, the AEB Finance & Investment Committee, and Frank Schauff, the AEB CEO.