14.01.2016
On 14 January 2016, the Automobile Manufacturers' Committee of the Association of European Businesses held its IX Annual Press Conference "REVIEW 2015".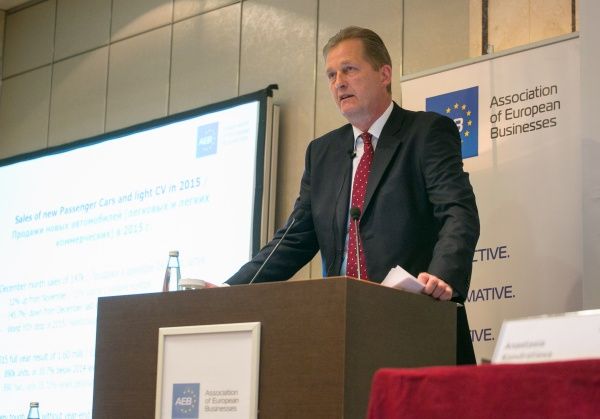 The event took place at Hotel Intercontinental Moscow Tverskaya.
Main speakers at the Conference were
Frank Schauff
, AEB CEO, and
Joerg Schreiber
, AEB AMC Chairman (Mazda Motor Rus LLC). At the Press Conference, the sales results of the Russian automotive market in 2015 and prospects for 2016 were presented. Sales of new passenger cars and LCVs in Russia in December 2015 decreased by
45.7%
as compared to the results of December 2014. Annual sales of new passenger cars and LCVs in Russia in December decreased by
35.7%
as compared with the year 2014.
The AMC Chairman,
Joerg Schreiber
announced market results in 2015 and AMC forecast for 2016:
"December sales of 147 thousand units represent the best monthly result achieved in 2015, at the same staying far below prior year's all-time record of 270 thousand units. With this, annual sales of PC and LCV in 2015 reached 1.60 million units, 890 thousand units or 35.7% below 2014 level of 2.49 million units.
Expectations for the new year are muted. AEB member forecast for the total market in 2016 is to reach 1.53 million units, assuming no major change in government support to the automotive sector. Under this condition, it appears possible to limit further volume erosion to a level of under 5% year-on-year. This would be some progress in view of the dramatic losses in the recent past, bearing in mind however that it remains uncertain when the market will finally stabilize and return to much needed growth."
At the Press Conference the main issues on the AMC Agenda were featured. CEOs and representatives of major automotive companies participated at the Press Conference. The representatives of leading mass media were present and showed huge interest in the event. A series of individual interviews with the speakers and individual brands' representatives were organised after the event.
AEB would like to express sincere gratitude to the 
sponsors
 of the Annual AMC Press Conference for their invaluable support for organising the event:
Total Vostok
(platinum sponsor);
Cesar Satellite
,
Continental
,
Metlife
and
Raiffeisen-Leasing
(silver sponsors).
Photo: 
Joerg Schreiber
, Chairman of the AEB Automobile Manufacturers Committee, President & General Director, Mazda Motor Rus OOO  
PLATINUM SPONSOR                                                          SILVER SPONSORS