11.12.2018
On 11 December, 2018, an extended joint meeting entitled "Business Image of a Company through the Prism of Reporting" took place. The meeting was held with the participation of the AEB and was organized by the Committee on Corporate Social Responsibility (CSR) and Demographic Policy of the Russian Union of Industrialists and Entrepreneurs (RSPP).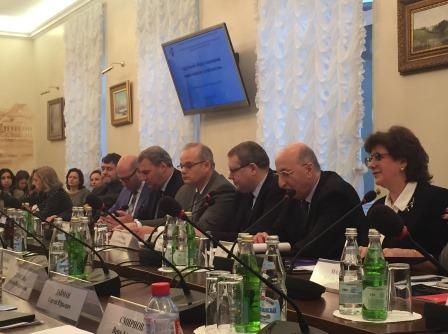 The event provided a platform for the discussion of best practices, applied by European and Russian businesses in the field of sustainable development and non-financial reporting. 
The meeting was moderated by David Yakobashvili, Member of the RSPP Board, Chairman of the Committee on CSR and Demographic Policy at RSPP.
Ruslan Kokarev, AEB Chief Operating Officer focused in his speech on recently held AEB activities, which were devoted to the CSR and sustainable development. Mr. Kokarev reconfirmed the interest of the AEB member companies to further develop and strengthen the dialogue with RSPP on this topic.