25.10.2019
On October 24, 2019, the AEB hosted a lecture by Dr. Mark Esposito (IE Business School): "At Home, in the Artificial Intelligence Republic" devoted to the development of AI and its integration to the modern society.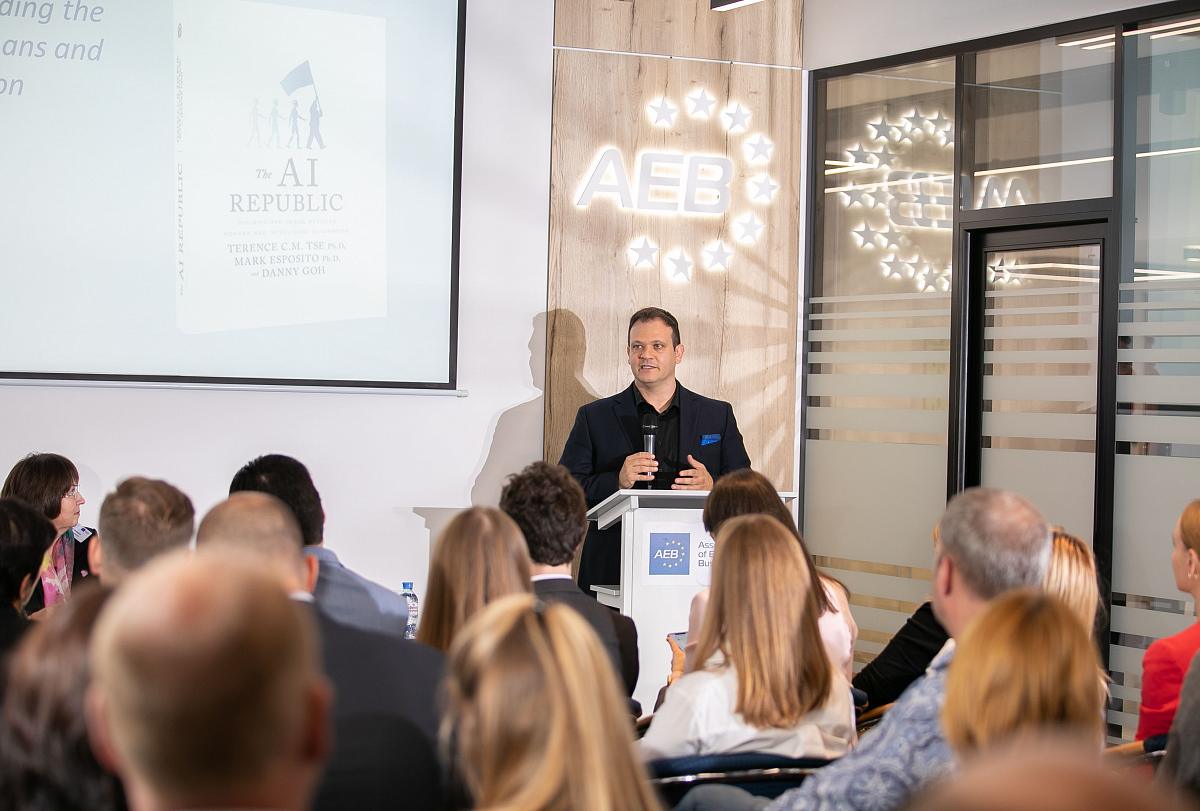 Based on the research conducted on his latest book, The AI republic, co-authored with Terence Tse and Danny Goh and supported by the large corporate experience gained as co-founder of a multi-million dollar AI firm, Nexus FrontierTech, Dr. Mark Esposito cast light on the truth about AI, and told about its opportunities  to reform our societies.
Mr.Esposito marked out that AI and new technologies are no foes to the human beings and our mutual cooperation can lead to so called "Symbio-intelligence", i.e. algorithms working for the people to solve issues in areas such as health. Mark Esposito also noted that automation and AI will transform the business environment and create a lot of new jobs, replacing some existing ones. Mark Esposito also made the point that those technologies should be made available not only for tech giants but also for small and medium size enterprises.
Dr. Mark Esposito is an Adjunct Professor of Strategy at IE Business School and one of the Faculty Leads in the Global Advanced Management Program. He is Professor of Business and Economics at Hult International Business School and Clinical Professor in the Fourth Industrial Revolution at Thunderbird Global School of Management at Arizona State University. He has equally served as Co-Leader of the Institute Council for the Microeconomics of Competitiveness Program at the Institute of Strategy and Competitiveness at Harvard Business School and serves in the faculty of Harvard University since 2011. He is author/co-author of 11 books, among which two Amazon's bestsellers, 'Understanding how the future unfolds' (2017) and 'The AI Republic' (2019).