16.09.2015
On 15 September, 2015 the AEB and Moscow Government held the event: "The localisation of production in Moscow: key success factors for European companies in the new economic environment".
The moderator of the event was Stuart Lawson, Executive director at E&Y, Chairman of AEB finance and investments committee. AEB CEO Frank Schauff made a welcome speech. He noted that in recent years the work of investors in Moscow has become more efficient.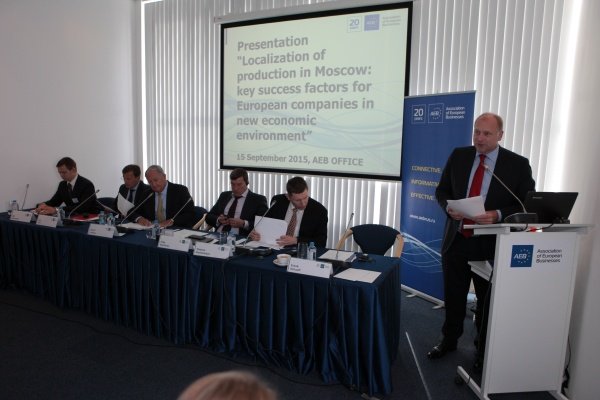 The Minister of Economic Policy and Development, Moscow City Government
Maksim Reshetnikov
and the Head of the Department of Science, Industrial Policy and Entrepreneurship, Moscow City Government
Oleg Bocharov
gave presentations. 
The Deputy General Director, Renault Russia Igor Titov and the Head of Government Affairs, Coca-Cola HBC Eurasia Igor Naymushin shared their experience of working with the Moscow Government with the event attendees.