23.05.2023
On May 23, 2023, the AEB Finance and Investments Committee held a conference "M&A Deals in Russia: Through Difficulties to "Completion"".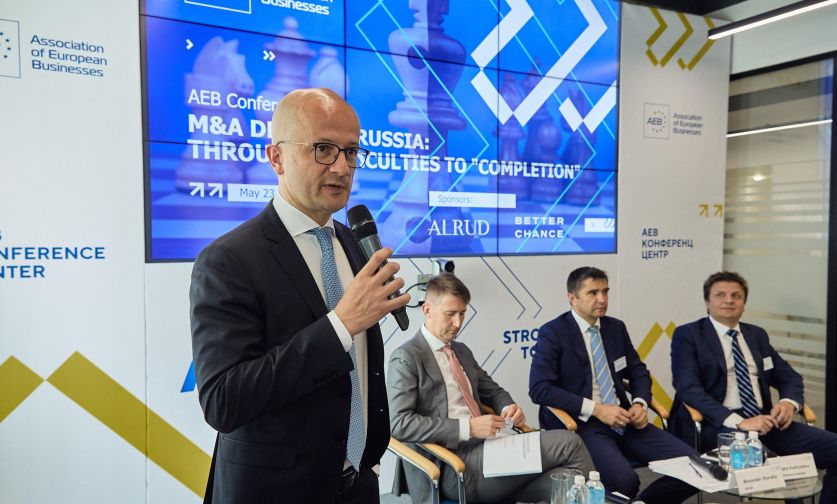 It was opened by Tadzio Schilling, CEO, AEB, and Andrey Zharskiy, AEB Finance and Investments Committee Chair / Partner, ALRUD Law Firm.
This conference was a one-stop event, that gave the audience the opportunity to receive the most up-to-date information related to M&A deals:
M&A market and deals - trends and forecasts for 2023,
Financial issues of M&A transactions and capital flows,
M&A documentation: practical issues. Regulatory issues.
Among the moderators and speakers were:
Alexander Zharskiy, Partner, Head of Corporate and M&A Practice, ALRUD
Alexander Lobakov, Managing Partner, Novus Capital
Sergey Kudryashov, CFO, Stockmann / Member of the Board of Directors, Lamoda
Sergey Kazachkov, Partner, Deal Advisory, Kept 
Dmitry Vodyannikov, Managing Partner, YnP Capital
Vladimir Barbolin, Partner, Better Chance
Alexander Kleschev, Senior Associate, Advocate, ALRUD
Artem Tamaev, Partner, Better Chance
Natalia Butrina, Head of Legal, Bonum Capital
Vitaly Zhigulin, Partner, Kesarev
Ilya Shumov, Managing Director (Investment banking department), Russian Agricultural Bank 
The AEB thanks ALRUD Law Firm and Better Chance, sponsors of the event.