25.10.2018
On October 24-th, 2018 the AEB Machine Building and Engineering Committee held its traditional Round Table devoted to the Machine Building Market Trends in Russia in 2018.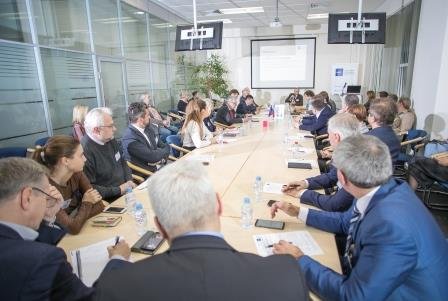 Tatiana Arabadzhi, Director of the National Industrial Information Agency, made a deep and detailed overview of the Russian Machine Building Sector. 
The AEB Construction Equipment Committee was represented by Mikhail Naroditsky, John Deere, he exposed the Committee position with regards to the localization and SPICs. 
Olga Surikova, ALSTOM Transport Rus, spoke about the digital transformation of the Machine Building. 
The presentation by Vyacheslav Pronin from Russian Association of Specialized Technique & Equipment Producers was on state and perspectives on the Russian agricultural machinery. 
Y. Shemchishin, from SPETSAVTOPROM, analyzed the achievements and problems in the construction equipment industry in Russia 
The Round Table was closed by Viktoria Hurri, OY Karelian Trains Ltd – she briefed the participants on exploitation and modernization of trains "Allegro".
The event was moderated by Mikhail Turundaev, Committee Deputy Chairman, Schneider Electric.