19.05.2022
On May 19, 2022, within the framework of the "Time for New Strategies" program, with the support of the Krasnodar Regional Public Chamber, the AEB Southern Regional Committee, the Association "Agency for Investment and International Cooperation", the RSPP Krasnodar Regional Branch of the RSPP and the socio-political weekly "Yug Times", was held the HR-conference "Market situation: how to maintain efficiency and not to lose talents."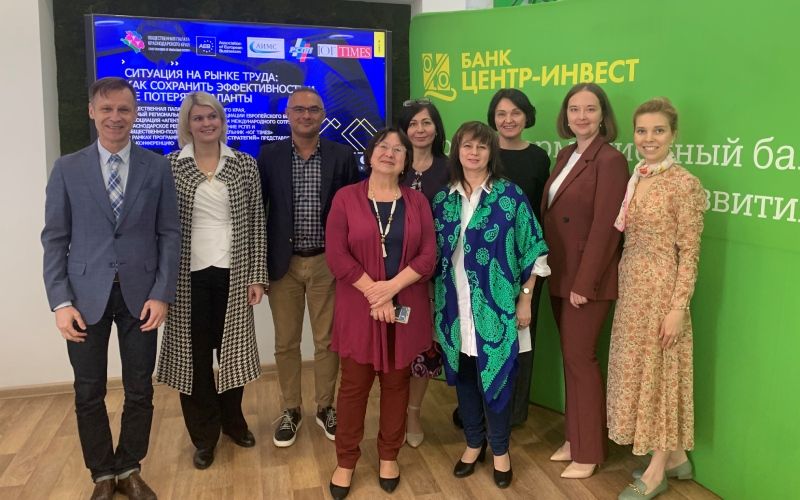 The HR conference, regularly organized by the AEB Southern Regional Committee in Krasnodar, was held for the 15th time. The format of the event was hybrid. The strategic partner of the conference was Center-Invest Bank, an AEB member.
The conference was attended by: AEB CEO Tadzio Schilling, AEB HR Committee Chairman Irina Aksenova and AEB SRC Chairman Oleg Zharko.
During the event, the heads of consulting agencies – leaders in the field of recruitment and HR consulting, leading business coaches presented up-to-date analytical information on the labor market, the results of surveys and analytics, discussed with the participants the format, trends and strategic plans of companies in 2022, including measures to support employees, and shared their own best practices on preservation of working capacity in modern realities. The conference was attended by over 70 HR specialists of AEB member companies from Krasnodar, Moscow, Rostov-on–Don, Belgorod, and other regions of Russia.
Following the results of the HR conference, it was decided to further monitor the situation on the labor market and discuss it at the next HR event in the fall of 2022.