14.04.2017
On 14 April 2017, the round table "Matters of ecologic responsibility in agriculture" was organised by the AEB Southern Regional Committee in Krasnodar.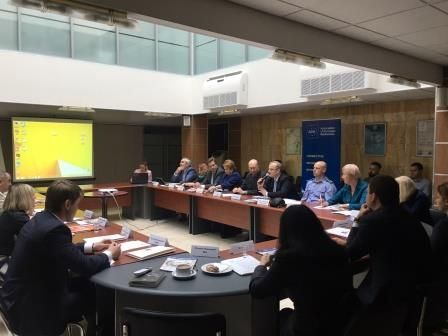 Ruslan Kokarev, AEB COO made a welcome speech. Tatiana Belousovich, AEB GR Manager, Crop Protection and Seeds made a presentation about AEB pilot project in collection and recycling containers. 
Among the participants of the meeting were directors and representatives of AEB member-companies, Evgeny Porfiriev, Head of the Ecologic Control Department, Administration of Rosprirodnadzor in the Krasnodar region and the Republic of Adygea, Liudmila Shulyakovskaya, Head of the Krasnodar branch of Rosselkhozcentr, Vladimir Alginin, Executive Director of the Russian Union of CPP Manufacturers, Lyubov Popova, Secretary of the Public Chamber of the Krasnodar region, representatives of CPP manufacturers and importers, "ECOPOLE" company and it's subcontractors on collection and recycling in Southern and Central Federal Districts.
The key topics of the round table were the implementation of the European background, recent amendments to the Russian legislation as well as ways of cooperation for embodying the extended responsibility by manufacturers in collection and recycling and training of farmers to rinse the containers correctly. 
Oleg Zharko, Chairman of the AEB Southern Regional Committee, moderated the event.