20.12.2017
On December 20, 2017, the Russian Minister of Economic Development Maxim Oreshkin met with members of the Association of European Businesses (AEB)  in Moscow at the Hotel Baltschug Kempinski.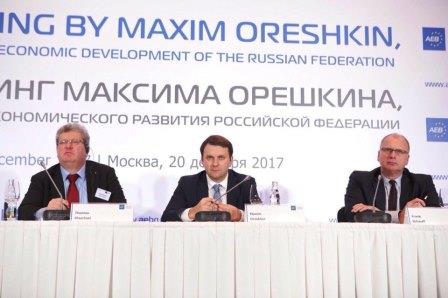 Dr. Thomas Staertzel, Chairman of the AEB Board, opened the meeting. 
The Minister of Economic Development Maxim Oreshkin delivered a speech in which he touched the current situation in the Russian economy, the development of the business climate in Russia, external economic cooperation between Russia and the EU, as well as the opportunities that are provided to foreign investors. 
While talking about plans for the next year, the Minister has highlighted such key goals as: introduction of best practices to improve the investment climate, implementation of the control and supervision reform and shifting the emphasis to the digital economy.
The briefing by Mr. Oreshkin was followed by a Q&A session moderated by AEB CEO Dr. Frank Schauff. 
He noted that one of the main tasks for the AEB is to support an effective dialogue between foreign investors and government officials. 
AEB member company representatives received answers to their most pressing and important questions directly from the source.
Full photo report is available 
HERE
The transcript of the briefing is avaliable 
HERE