26.11.2018
On 23 November 2018, the AEB Insurance and Pensions Committee held a business meeting titled "New Stage of Pension Reform: Challenges and Solutions".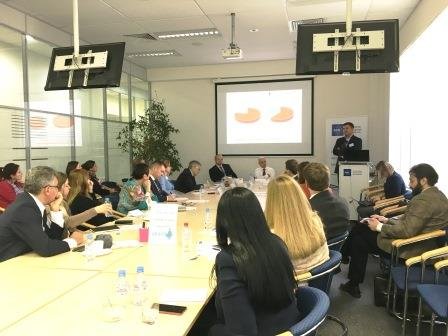 It was opened by Ruslan Kokarev, COO, AEB, and moderated by Alexander Lorenz, AEB Insurance and Pensions Committee Chairman. 
The event gave the audience an update on the pension reform, trends and solutions in corporate pensions, as well as on new products and technologies in the pension market. The participants raised and discussed numerous questions regarding the increase in the pension age and its impact on the economy, individual pension capital and many others.
Among the speakers were Sergey Belyakov, Association of Non-State Pension Funds (ANPF); Oksana Sinyavskaya, Higher School of Economics; Evgeny Biezbardis, SAFMAR NPF AO; Elena Gorshkova, WELBI; Arkady Nedbai, NPF "Alliance"; Evgeny Sivoushkov, PwC.
The presentations and the programme are available for 
downloading
 (please
LogIn
and scroll to the bottom of the web-page).