05.10.2017
On 3 October 2017, the AEB Legal and Compliance & Ethics Committees held its Open Meeting «New US sanctions: Risks and challenges for the European businesses».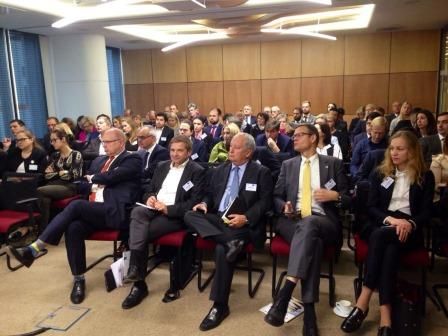 The event provided a platform for discussing following topics: legal aspects of sanctions, legal consequences of US and EU sanctions for intellectual property transactions in Russia, impact on current business processes under sanctions.
The event was moderated by Michael Akim, Chairperson of the AEB Working Group on Modernization and Innovation, Vice President ABB Russia.
The presentations are available for download 
here
Photo L-R:  Frank Schauff, CEO, Association of European Businesses (AEB); Philippe Pegorier,  President  Alstom Russia, member of the AEB Board; Stuart Lawson, AEB Finance & Investments Committee Chairman, Executive Director, EY; Arina Sergievskaya, Head of Compliance, DAIMLER KAMAZ RUS.