27.03.2017
Round table with the participation of the representatives of North-Western customs administration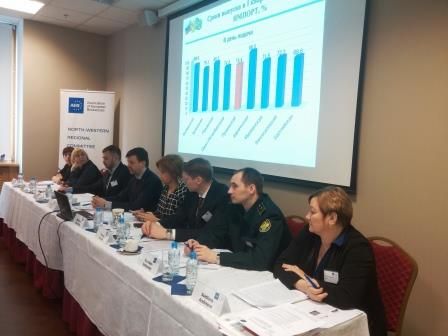 On 27 March, 2017 the AEB North-Western Regional Committee's Customs, Transport & Logistics Subcommittee organized a regular annual Round table with participation of the representatives of North-Western Customs Administration (SZTU) on "News of the customs legislation and practice"
The event focused on the following issues:
1.
Control of the timing of customs operations
2.
Transfer of goods intended for the personal use of individuals  as express cargo 
3.
Improvement of information technology in customs
4.
Development of control after the release of the goods as one of the priorities of the customs control 
5.
Application of non-tariff regulation and technical regulation requirements
6.
Classification of goods under HS EAEC. Counseling. Preliminary decisions. Appeal
Sergey Vasiliev, Chair of the AEB North-Western Regional Committee's Subcommittee for Customs, Transport & Logistics and Wilhelmina Shavshina, Deputy Chair of the AEB Customs & Transport Committee (Moscow) moderated the event.
The head of the SZTU, Mr. Alexander Getman welcomed the participants, mentioning the importance of collaboration with European businesses in terms of customs regulations and practice and briefed on the main topics that will be elaborated at the meeting. He presented his colleagues: Pavel Tenkov, Head of Pulkovo Post at Pulkovo customs; Stanislav Shklenskiy, Head of customs control advanced technology introduction service department of SZTU; Svetlana Andreeva, Deputy head of the customs control service after the release of the goods of SZTU; Ekaterina Ladynina, Deputy head of the federal customs revenues service, head of the department of trade restrictions and export controls of SZTU; and Maria Shakhina, Head of department of preliminary decision on classification of goods and country of origin, Federal Customs Revenues Service of SZTU. They further clarified the mentioned above topics of the meeting and answered the questions of the participants. 
The event was kindly hosted by DLA Piper in St. Petersburg.
Presentation is available
here
For more details click 
here
Presentation_AEB NWRC event_Customs_270317.pdf

View/Open
AEB eng.pdf

View/Open