14.12.2017
On December 14, 2017 the presentation of the Krasnoyarsk Region took place at the AEB Conference Centre.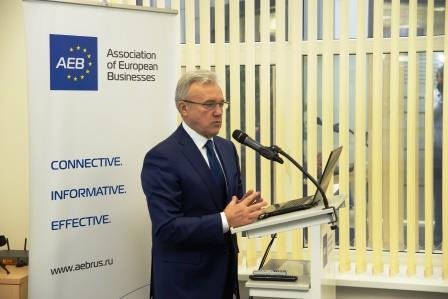 AEB CEO
Dr. Frank Schauff
chaired and moderation the event. 
The Krasnoyarsk delegation headed by the Acting Governor of the Region Mr. Alexander Uss presented the economic and industrial potential of the territory as well as priority investment projects including the Technological Valley as a potential location for aluminum processing enterprises and the Agro-industrial park "Siberia" at Berezovskaya GRES, a promising site for implementation of energy-intensive agricultural investment projects. 
Also, companies HENCON and Johnson Matthey shared with the audience their successful experience of operating in the region. 
At the end of the event, the Governor invited the AEB members to take part in the Krasnoyarsk International Economic Forum next April and come to Krasnoyarsk for the Winter Universiade in 2019. 
The presentation was followed by an intensive informal networking.
Presentations of the participants are available 
HERE