24.02.2022
On February 24, 2022 the AEB Modernization and Innovation Working Group in Partnership With Higher School of Economics held the round table "National Project on Labor Productivity – Status Update. What Opportunities for the AEB Member-Companies?".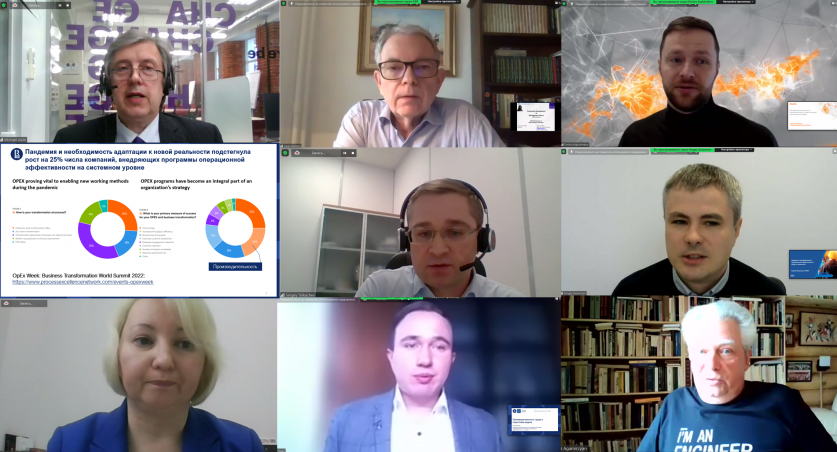 The event was moderated by Michael Akim, Member of the AEB Board, Vitus Bering Management, HSE GSB. 
He noted that since the launch of the national project on labor productivity, active work has been carried out jointly with the Labor Productivity Department of the Ministry of Economic Development of the Russian Federation, and today's round table has continued of a series of sessions on the topic. 
The following speakers presentyed their vision: 
⦁ Aage Nielsen, Managing Director & Senior Partner, Vitus Bering Management 
⦁ Dmitry Kapishnikov, General Director, KUKA Russia 
⦁ Sergey Kazantsev, Vice-President, Production Digitalization, NLMK Group 
⦁ Grigory Baev, Academic Supervisor of Master's Program "Production Systems& Operational Excellence", HSE 
⦁ Ekaterina Grishina, Director of Productivity Center, Russian Foreign Trade Academy 
⦁ Sergey Tolkachev, Production Department Manager, OOO BSH Bytowiye Pribory 
⦁ Igor Agamirzyan, Vice-President HSE, Professor at the Faculty of Computer Sciences 
During the round table the experts discussed such topics as automation and robotization as performance drivers, digital transformation and operational efficiency, international experience in the development of the production system, labor productivity in Russian companies, training programs for improving operational efficiency.