25.10.2018
On 24 October 2018, the AEB Human Resources Committee held a roundtable entitled "In Search of a Valuable Employee": Companies' Experience in Working with Graduates and University Students".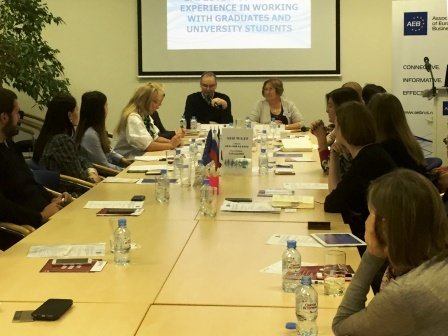 The event, organized by the AEB Recruitment Sub-Committee, was moderated by Irina Aksenova, Deputy Chairperson of the AEB HR Committee, Chairperson of the AEB recruitment Sub-Committee, Deputy Director General, Key Accounts, Coleman Services UK. 
The roundtable brought together the representatives of the leading Russian universities' Career Centers (Russian Presidential Academy of National Economy and Public Administration -RANEPA, Higher School of Economics-HSE, the Moscow State Institute of Steel and Alloys –MISiS), and the representatives from industry.  The discussion was focused on the career centers' activities on graduate recruitment (career consulting, career fairs, candidates selection etc.) and on the graduates' skills and key qualifications currently in demand at the labour market. 
Presentations of the participants are available 
HERE
.