28.04.2018
On April 27th, 2018, the public discussion on the creation of the Krasnodar agglomeration was held in Krasnodar.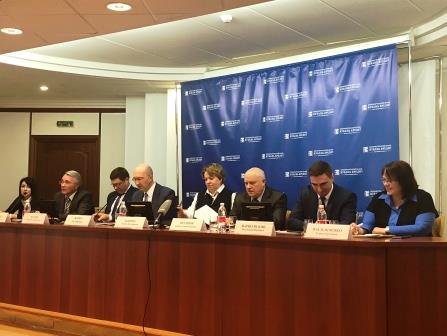 The meeting was conducted within the framework of the program "Time for new strategies-2018", co-organized by the Public chamber of Krasnodar region, AEB Southern regional Committee, the Association "Agency for investment and international cooperation" and the Russian-English socio-political weekly "Yug-Times". The round table was attended by representatives of the regional administration, municipalities of Kuban, public organizations and business.
The moderator was Oleg Zharko, Chairman of the AEB Southern regional Committee, Regional Corporate Affairs Director, Danone Russia.
The meeting participants discussed the benefits of integration and the Krasnodar agglomeration as a business, financial and scientific center of the southern macroregion, as well as the need to form a single brand of agglomeration.
Chairman of the Public chamber of the Krasnodar region Lyubov Popova reminded how much business is interested in sustainable development of the territory. 
The creation of the Krasnodar agglomeration means, first of all, the unification of municipalities into a single economic zone for the implementation of joint projects. Krasnodar agglomeration will soon have to associate areas of Dinskoy and Seversky areas, the Goryachiy Klyuch, Tahtamukaysky district of the Republic of Adygea and the Krasnodar. 
The head of Goryachiy Klyuch Ivan Fedorovskiy noted in his speech that the creation of a common economic space should be based on the strategies of municipalities.
The fact that the Krasnodar agglomeration is formed under the influence of time as a special geographical, economic and social education, United by a common goal – a common development, was pointed by the first Deputy Minister of economy Andrey Palii.
In fact, the process of creating the agglomeration began with the preparation of the draft "strategy for socio-economic development of Kuban until 2030". The Strategy 2030 regulates the formation of seven economic zones in the region – the Northern, Central, Eastern, Black sea, Predgornoy, as well as Sochi and Krasnodar agglomerations.
At the end of the meeting, Andrei Palii invited all participants to submit their proposals to the issue of the agglomeration, as well as to involve the public and the media in the discussion on this topic.
должность советник по российскому законодательству.pdf

View/Open
28.05 Programme.pdf

View/Open