03.06.2017
On 3 June 2017, AEB Board member Philippe Pegorier participated in the roundtable "Russia's regions: an investor's view" during St. Petersburg International Economic Forum.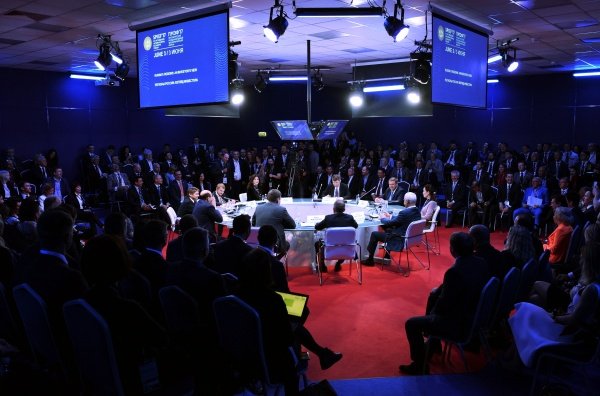 Among other panellists were: Artem Avetisyan, Director of the New Business Department, Agency of Strategic Initiatives; Chairman of the Non-Governmental Organization Leaders Club; Svetlana Chupsheva, Chief Executive Officer, Agency for Strategic Initiatives; Alexander Kalinin, President, All-Russian Non-Governmental Organization of Small and Medium-Sized Businesses Opora Russia; Sergei Kelbakh, Chairman of the Board, Russian Highways; Veniamin Kondratiev, Head of Administration (Governor) of Krasnodar Territory; Nikolay Lubimov, Acting Governor of Ryazan Oblast; Agnessa Osipova, President, Russian Franchise Association (RFA); President, Baskin Robbins Production International; Andrey Pankov, General Director, Renault Russia; Maksim Reshetnikov, Acting Governor of Perm Territory; Igor Esin, Chairman of the Board of Directors, NIIK (Research and Design Institute of Urea and Organic Synthesis Products); Vladimir Krasnoborodko, General Director, The Stamp of the Union State; Andrey Nikitin, Acting Governor of Novgorod Region. Yury Bogdanov, Anchor, Russia 24 TV Channel moderated the event.
During the roundtable the participants discussed the problems encountered by Russian and foreign investors in Russia's regions, factors influencing decisions about investment in Russia's regions, as well as regional institutions' work in attracting investment and supporting business and developing special zones: industrial parks, business incubators and etc.