29.09.2016
On 29 September 2016, Frank Schauff, AEB CEO, within the Russian delegation headed by Gulnaz Kadyrova, Deputy Minister of Industry and Trade of the Russian Federation, which also included representatives of RF Ministry of Industry and Trade (Minpromtorg), regional executive bodies, National Association of Market Players of Assistive Technologies (AURATECH) and others, participated in the annual international fair "REHACARE International" that took place in Dusseldorf, Germany.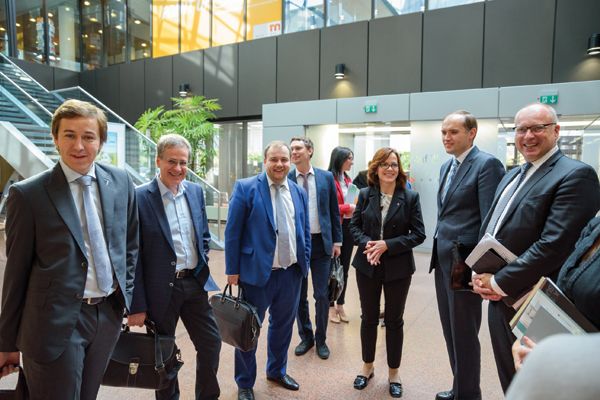 During the visit, members of the delegation met representatives of regulatory authorities of Germany, discussed prospects of cooperation with foreign partners, participated in the debate on employment of persons with disabilities and creation of management and quality control systems of the production of means of rehabilitation.
REHACARE is the leading international trade fair for rehabilitation, prevention, inclusion and care. With over 30 years of expertise and wide-ranging experience of the market, this fair is an ideal platform for anyone with disabilities, care requirements or chronic conditions as well as for the elderly. The quality and diversity of REHACARE are reflected in numerous "theme parks", info events, industry representatives, service providers, paying authorities and non-profit exhibitors.
Upper photo: Members of the Russian delegation