19.05.2016
On 19 May 2016, the AEB Small & Medium-Sized Enterprises (SME) Committee held its open event – a business breakfast "Corporate Culture As a Context For Employees' and Clients' Loyalty".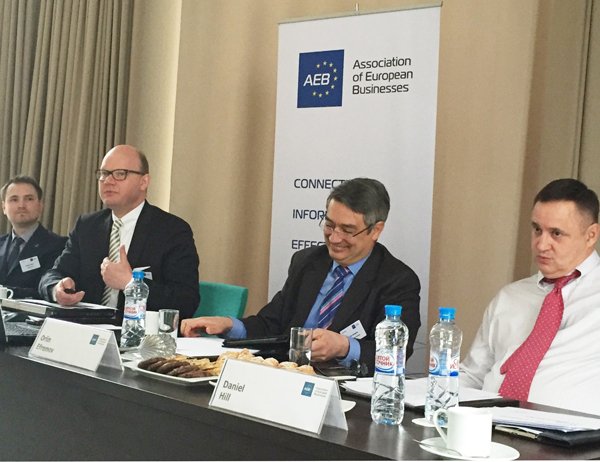 The participants of the event exchanged views and best practices applied by the companies in the field of corporate culture and discussed the following aspects of the topic: corporate culture as a resource, interconnection of corporate culture and values and client's loyalty, perspectives on corporate culture in a difficult market.
The AEB expresses its deepest gratitude to DoubleTree by Hilton Moscow-Marina Hotel (hotel sponsor) and Volvo Cars LLC (transportation sponsor).
L–R: Mikhail Belov, Head of Fleet Sales, LLC "Volvo Cars"; Uwe Kunz, General Manager, DoubleTree by Hilton Moscow – Marina Hotel; Orlin Efremov, Chairman of the AEB SME Committee, Managing Partner, Performance Partners LLC; Daniel Hill, Founder and Managing Director, AB Services.
27.05.2016 Agenda_Climate Policy WG meeting.pdf

View/Open