31.10.2023
On October 9, 2023, a Solemn ceremony of the beginning of the 2023-2024 academic year was held at the Southern Federal University in Rostov-on-Don for 35 students from 10 faculties of the university.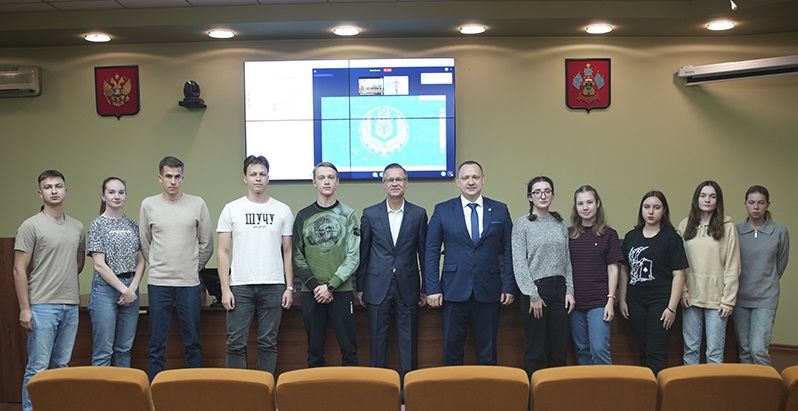 Lecturers of the Southern Federal University are actively involved in the project. Ashkhen Yatsenko, PhD in Economics, Associate Professor of the Department of World Economy, and International Relations, in her welcoming speech thanked companies that find time and opportunities to meet with students, supplement their theoretical knowledge with practical skills.
Mikhail Karapetyan, a student of the Business School in the 2022-2023 academic year, shared his impressions about the project. He addressed the today's students and advised them to be active, brave and use the opportunity to ask questions to business representatives who have studied the best world practices and apply their knowledge when building a business process in production.
On October 10, 2023, the 9th Solemn Meeting dedicated to the beginning of the 2023-2024 academic year within the framework of the "Business Schools" project was held for 62 students at the Kuban State Technological University, the oldest university in the Krasnodar Territory.
Ivan Bugaets, Chief of the Department for International Cooperation of the University, addressed the audience and noted the uniqueness, significance of the project, as well as its demand from both students and leading companies in the South of Russia.
The meeting at the Kuban State Technological University was attended by Diana Lipinskaya, Director of the Krasnodar branch of PJSC Bank Center-Invest, and Ekaterina Avdonina, chief specialist of the company Technologies of Trust — Audit.
The ceremonies at both universities were attended by Oleg Zharko, Chairman of the Coordinating Council of the Business Schools Project, Corporate Affairs Director Center South Region of the H&N Companies Group, and Igor Brener, Employee Experience, Cargill GHRS Russia, Head of the coordination group of the Business Schools project. They noted that the project is only getting more interesting from year to year, as many companies are going through a difficult path of transformation, and this is a valuable experience that it is important to share with graduates.
All those present expressed their sincere gratitude to the management, all employees and teachers of the Southern Federal University and the Kuban State Technological University, and also wished the students an interesting and eventful academic year at the Business School.