01.10.2021
On September 29, the Ecumene 2021 International Sustainability Congress with the support of Sber held a session entitled "Sustainable Development and Capital Flows: Combining Climate and Investment", where AEB CEO Tadzio Schilling spoke.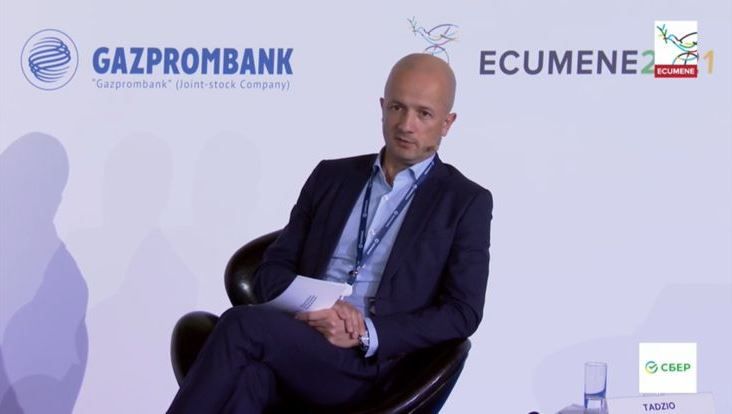 The discussion was moderated by Alexander Vedyakhin, First Deputy Chairman of the Management Board of Sberbank.
Speakers at the session were: Clara De La Torre,Deputy Director-General – Directorate-General "Climate Action" (CLIMA); Grant Kirkman, UN Climate Change, Team Lead Climate Finance; Andrey Marku, Founder and Executive Director, European Roundtable on Climate Change and Sustainable Transition; Vladimir Kuznetsov, Director of the United Nations Information Centre in Moscow and Chairman of the United Nations Country Team in Russia; Tadzio Schilling, AEB CEO.
During the discussion the speakers discussed the challenges and opportunities in the context of climate change for the international and Russian economies, as well as the role of financial institutions in financing ESG-transition and the transition to sustainable development. They discussed such issues as the distribution of tasks among international organizations, governments, companies and financial institutions in the upcoming economic transformation; system and sources of climate finance; necessary actions for launching investment processes in climate projects; risks in financing green projects, etc.
Mr. Schilling emphasized in his speech that, according to research results, Russian business is already prepared to implement sustainability initiatives: for 64% of top managers, the ESG agenda is in the top three directions of development.
He also spoke about the most promising green investment projects in Russia, including a project to create a hydrogen cluster on Sakhalin Island and urged regulators to find approaches to enable businesses to actively invest in the green economy.
The conversation was particularly relevant in the run-up to the 26th session of the Conference of the Parties to the United Nations Framework Convention on Climate Change in Glasgow in November.