16.11.2023
On November 16, 2023, the AEB Conformity Assessment Committee held a conference on "Technical Regulation and Conformity Assessment in the Eurasian Economic Union".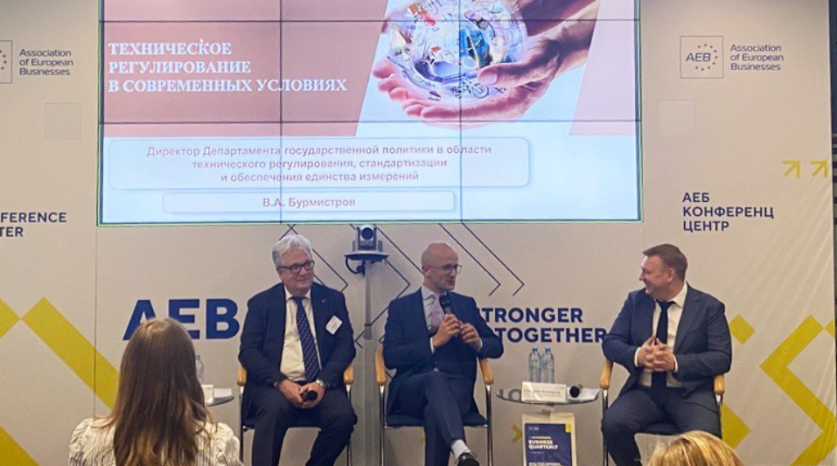 After a long break, the committee resumed the open event, the agenda of which does not lose its relevance, as many companies face difficulties in assessing the conformity of their products.
At the event experts discussed issues of technical regulation in such industries as construction, chemical products, food production, production of machinery and equipment.
Tadzio Schilling, CEO of AEB, and Alexey Soldatov, Chairman of the AEB Conformity Assessment Committee, opened the event and spoke about the committee's activities. 
The discussion was moderated by Dmitry Miklin, Ph.D., Director of Government Relations, Herbalife.
Evgeniya Ivlieva, Ph.D., Head of Material and Technology Development Service, Cementum Testing Center, and Alena Rozhkova, Head of Scientific and Technical Development Department, Tikkurila LLC, spoke about technical regulations for construction and paint and varnish materials. Irina Kartashova, Director for Technical Regulation and External Relations, Procter & Gamble Distribution Company, conducted a comparative analysis of the technical regulations of the Russian Federation "On the Safety of Chemical Products" and the EAEU Technical Regulation 041/2017 "On the Safety of Chemical Products". Vitaly Akimochkin, an independent expert of AEB, paid attention to the peculiarities of the status of "Authorized by the manufacturer entity" when confirming compliance of machinery and equipment with the requirements of TR CU 010/2011.
The honored guest of the event was Vyacheslav Alexandrovich Burmistrov, Director of the Department of State Policy in the Field of Technical Regulation, Standardization and Ensuring Uniformity of Measurements, Ministry of Industry and Trade of the Russian Federation. He spoke about the current activities of the Department and answered numerous questions from the meeting participants.