03.06.2021
On June 3, AEB CEO Tadzio Schilling spoke at the panel session "The Future of Russia's Tax System: Stepping Up to the Challenge" together with Daniil Egorov, Head of the Federal Tax Service, Maxim Reshetnikov, Minister of Economic Development of the Russian Federation and Anton Siluanov, Minister of Finance of the Russian Federation.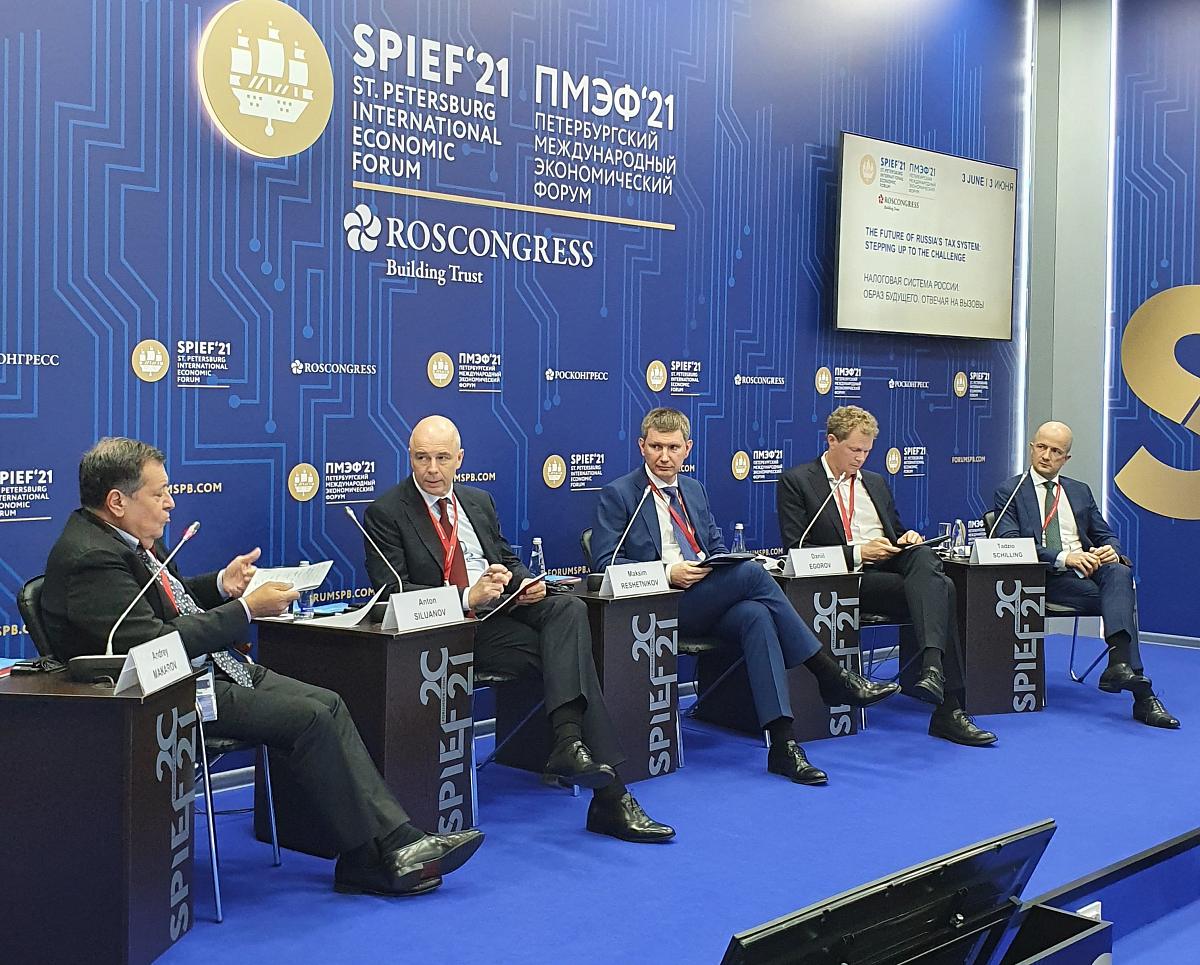 Andrey Makarov, Chairman of the Committee on Budget and Taxes, The State Duma of the Federal Assembly of the Russian Federation moderated the discussion.
The new environment in which business has to operate sets the tone for change in the tax system. The creation of new convenient services and formats for taxation at the same time allows for better tax administration. These changes primarily affect small and medium-sized businesses. Last year it became mandatory for businesses to file reports electronically. At the same time, the introduction of the obligation to use a cash register system has led to the need to abolish the UTII and contributed to the "whitewashing" of business.
The panelists discussed how tax policy should stimulate business development, how digitalization can change the relationship between business and the authorities, as well as how to ensure effective administration and prevent the business from "suffocating".
Maxim Reshetnikov noted that any sharp increase in the tax burden will undermine investment plans, while a decrease will undermine the tax base of the regions. Therefore any changes in this sphere must be predictable. 
Speaking of the possibilities of digitalization for improving the tax system, Maxim Reshetnikov also raised the issue of the tax system in the digital ecosystem of the future and its necessary adaptation. 
He also called for the study of the European experience in relation to the carbon tax.
Daniel Egorov spoke in detail about the customization of tax services, including in relation to the self-employed. 
"If the pre-tax system is properly built, the costs of its maintenance will be reduced many times over," said the head of the tax service.
Anton Siluanov, who joined the discussion, noted that the development of the tax service prompts to change the entire tax code and simplify administration in relation to taxpayers.
In his speech, Mr. Tadzio Schilling said that European business was in favor of improving the system of services for taxpayers, provided that the interests of real business were taken into account, including in respect of finding new solutions in the issue of tax treaties.
"Given the experience of the past years, I hope that this work will be successfully completed and the voice of European business will be heard," concluded the AEB CEO.