09.10.2018
On 9 October 2018, the AEB Assessment, Training and Development Sub-Committee held its open meeting entitled "The perspectives for application of professional standards by international companies".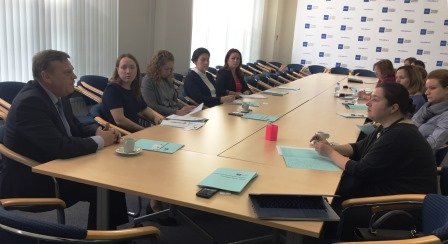 The meeting conducted by Irina Zarina, Sub-Committee's Chairperson and Managing Director at SHL Russia & CIS, was aimed at strengthening a dialogue between government and business in the field of professional standards' implementation and application.  
The keynote speaker, Fyodor Prokopov, Deputy Chairman of the National Council under the President of the Russian Federation on professional qualifications, Deputy President of the Russian Union of Industrialists and Entrepreneurs (RSPP), discussed with the AEB member companies a scope of current challenges. 
The federal authority considers global multinational companies as the source of a high-level expertise. In this regard, Mr Prokopov highly encouraged the AEB members to get involved in systematic work performed by the National Council's structural units, in order to contribute to improving existing guidelines and regulations on professional standards. 
The progress in reaching the outlined target will be estimated at a follow-up meeting, preliminarily scheduled for the beginning of 2019.   
DSM_Weihnachtsbasar18-A4-Einladung-en.pdf

View/Open
DSM_Weihnachtsbasar18-A4-Tombola-eng.pdf

View/Open