05.10.2015
On 5 October, 2015, the AEB Agribusiness Committee, together with the AEB Crop Protection and Seeds Committees, held an open event "The role of European business in the development and modernisation of the Russian agricultural sector", which also included the participation of the media.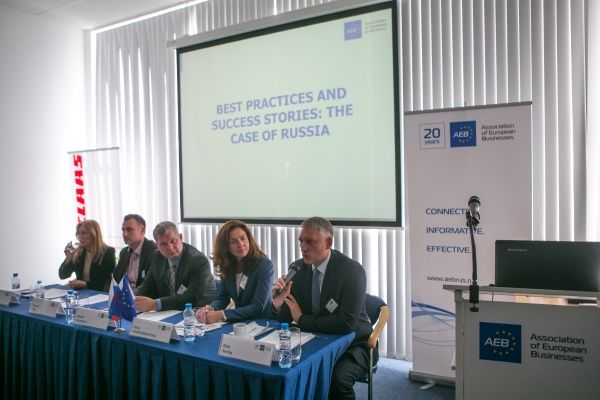 The focus of the event was to underline the essential contribution made by European companies in various spheres of the Russian agricultural industry – from machinery production and milk and seed enhancement to the transfer of technologies and know-how. The event also involved the participation of the AEB's partner organisation, VDMA Agricultural Machinery, which sponsored the event together with CLAAS.
On the photo: left to right: Marina Balabanova, Director Communications and Government Relations, Danone Russia; Michael Ritter, Financial Director, CLAAS, Krasnodar; Alexei Kuznetsov, Production Director, John Deere Rus; Anna Skorobogatova, The GGP Lead CIS, Syngenta, Communications and Information Support Working Group Lead, CP and Seeds Committees, AEB; Dirk Seelig, AEB Agribusiness Committee Chairman, Sales Director, Deputy General Director, CLAAS Vostok.