24.05.2022
On May 24, 2022, a roundtable discussion "The role of HR Department and HR Director in times of crisis. Value for the business and for the team", organized by the AEB HR Committee, took place.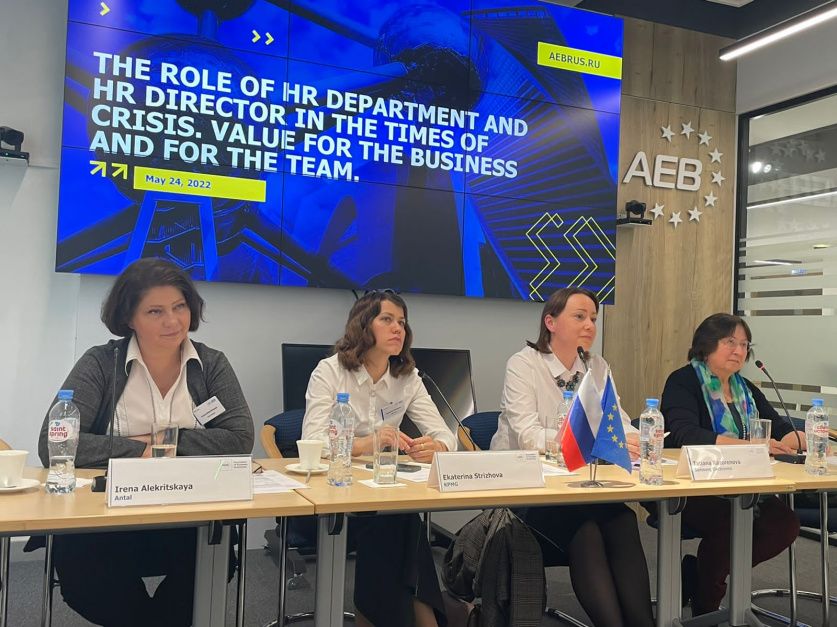 Evgeny Reyzman, AEB Labour Law Sub-Committee Chairperson, Counsel, Baker McKenzie, Ekaterina Strizhova, AEB Assessment, Training & Development Sub-Committee Chairperson, Director, KPMG Academy, KPMG, Irena Alekritskaya, AEB Recruitment & Relocation Sub-Committee Chairperson, Managing consultant, Antal and Tatiana Razorenova, HR Director СIS, Samsung Electronics took part in the discussion. 
The experts talked about new scope of HR directors responsibilities in Russia, discussed new unusual tasks, appeared in the "to-do" lists of the Russian HR directors, as well as the role and importance of the HR director and HR department in this everchanging environment. 
The round table was moderated by Irina Aksenova, AEB Human Resources Committee Chairperson, Deputy General Director of Key Accounts, Soleman Group.