12.04.2022
On April 12, 2022 AEB Committee on PR and Communications, Recruitments Sub-Committee and Committee on Compliance and Ethics conducted joint open event "The role of Internal and External communications in Crisis management. PR, HR & Ethical aspects".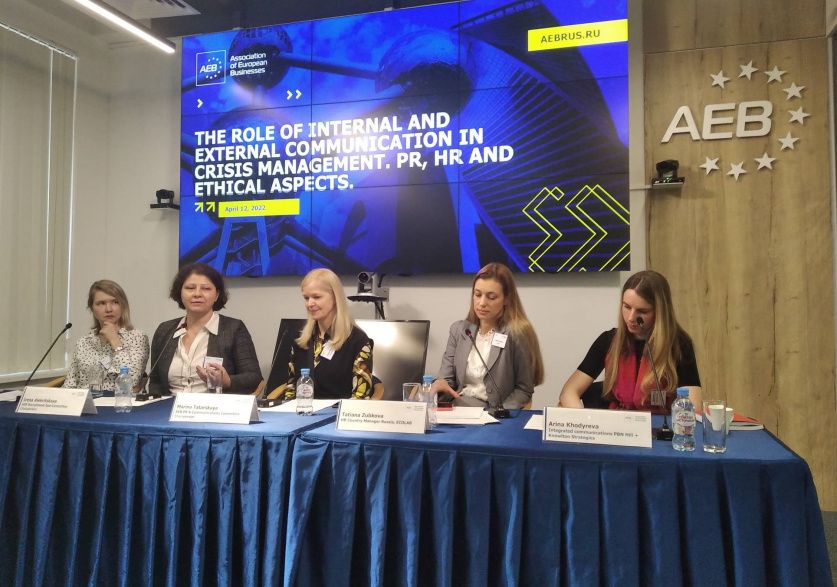 During the event, invited experts in the fields of PR & Communications, HR, Compliance & Ethics looked at how the synergy of all three departments can contribute to a timely response to the crisis, so preventive measures can be taken for smooth tackling of crisis to have minimum damage to the company. 
Arina Khodyreva, Vice President, Integrated communications PBN Hill+Knowlton Strategies told how to tackle the crisis contemplating its nature, how to structure a crisis communications team and shape the scheme of its work at the crisis response phase. What tools should be used to make it very clear, that maximum precautions can be taken to minimize the communication gap and the efforts by the top and middle-level management. 
Tatiana Zubkova, HR Country Manager Russia, ECOLAB gave an overview of the issue from HR perspective and underlined, that the role of HR is crucial in crisis management since it has the ability to roll out crisis responses directly to employees. HR's role is to ensure that staff are adequately prepared for crises through training, effective leadership, and empowerment, while ensuring that employees' wellbeing are taken care of. 
Ivan Berdinskikh, Director of Legal Support and Compliance, Manpower, in his turn, considered the issue in terms of compliance and ethics. He stressed that there is no doubt that nowadays companies are under pressure to react even more quickly in crisis. However, management should be deliberate and make informed decisions because it has responsibilities to a range of stakeholders.