30.05.2017
On 30 May 2017, experts from the AEB Transport and Customs Committee took part in the XIII International Exhibition Customs of the North-West-2017, which was held in St. Petersburg at the LenExpo exhibition complex, pavilion No. 7.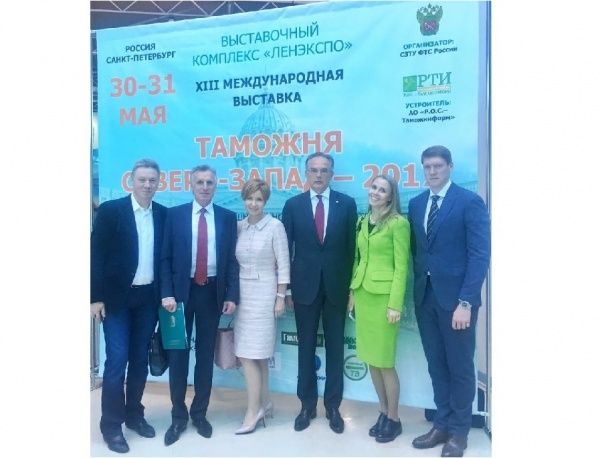 In the opening ceremony, Alexander Hetman, Head of the North-Western Customs Administration, and honourary guests who addressed the attendees with a welcoming speech. The management of the North-Western Customs Administration attended the exhibition and visited the expositions.
Expositions were presented by the North-West Customs Administration, 10 customhouses from the region, the Forensic Agency - the regional branch of the Central Forensic Customs Administration (St. Petersburg), the St. Petersburg V.B Bobkova branch of the Russian Customs Academy, the customs services of Finland, Latvia, Estonia, Lithuania, more than 23 organisations and companies engaged in foreign economic activities in the North-West Federal District.
Customs services, IT and software, freight forwarding customs services, warehousing and storage equipment, ports and terminals, and logistics services were presented at the exhibition.    
In total, more than 150 companies took part in the exhibition.
The North-Western Customs Administration press release is available here. 
Photo R-L:
Sergei Vasiliev, AEB Customs, transport and logistics Sub-committee Chairperson, Senior Associate, DLA Piper
Ksenia Solovieva, AEB Customs and Transport Committee Coordinator
Dmitry Cheltsov, AEB Customs and Transport Committee Chairperson, General Delegate to the IRU Permanent Delegation to Eurasia
Wilhelmina Shavshina, Deputy Chairperson of the AEB Customs and transport committee, Legal Director, Head of Foreign Trade Regulation Practice, PhD, DLA Piper
Guests of the Customs Exhibition.