19.04.2017
On April 19, 2017, AEB Transport and Customs Committee by the initiative of the Lithuanian Embassy held a joint event between Lithuanian transport, logistics and stevedore companies and the experts of the AEB Committee which was aimed to share the best practices on foreign trade activities in general, including customs regulation, customs transit and international transportation in Russia.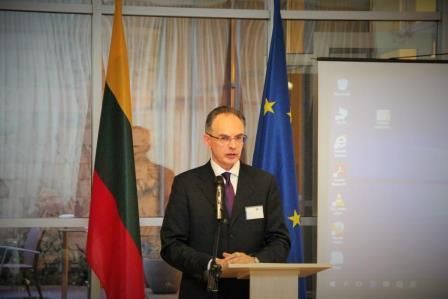 The event was opened with a welcome address by HE Remigijus Motuzas, Ambassador of the Republic of Lithuania to the Russian Federation. 
Dmitry Cheltsov, AEB Transport and Customs Committee Chairperson, General Delegate to the IRU Permanent Delegation to Eurasia, presented  the main tasks of the Federal Customs Service's development, which were assigned by the RF Ministry of Finance.
Marina Lyakisheva, Adviser to the General Director for Customs Affairs, NAWINIA RUS, presented the main provisions of the New Customs Code of the Eurasian Economic Union. 
Alexey Misailov, Global Supply Chain Director, FM Logistic, spoke about new challenges in transport and customs logistics.
The event was follow-up by the reception for the guests and participants of the event.
Presentations:
Presentation by Alexei Misailov, FM Logistic 19042017.pdf

View/Open
Presentation by Marina Lyakisheva Nawinia 19042017.pdf

View/Open
AEB SPO Meeting offer for spring-summer 2017_RUS.PDF

View/Open
AEB SPO Meeting offer for spring-summer 2017_ENG.pdf

View/Open
Radisson_Royal_AEB.pdf

View/Open