11.09.2018
On 11 September 2018, the AEB CEO Open Meeting, entitled "Turning Potential into Success: The Missing Link in Leadership Development", organized by the AEB HR Committee, took place.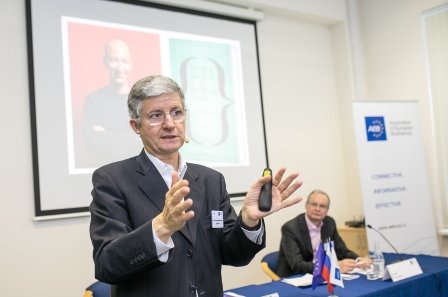 The meeting was moderated by David Gilmartin, Chairman of the AEB HR Committee, General Manager, Troika Relocations.
The invited speaker Claudio Fernández-Aráoz, top global expert on talent and leadership, Senior Adviser, Egon Zehnder, delivered a presentation. Mr. Fernández-Aráoz shared his view on the following issues: why talent is the key for success, what are the key leadership competencies, what is the impact of talent on corporate performance, and what are the elements of executive potential.
The question and answer session, followed the presentation, was devoted to the issues concerning motivation, corporate culture and candidates' interviewing. 
Presentation
is available 
HERE
Photo (L-R): Claudio Fernández-Aráoz, Senior Adviser, Egon Zehnder; David Gilmartin, Chairman of the AEB HR Committee, General Manager, Troika Relocations
Presentation_Claudio Fernandez-Araoz.pdf

View/Open