29.09.2016
On 29 September 2016, the AEB Safety, Health, Environment & Security Committee held a Conference "Waste management: the new Russian waste legislation and its practical steps" dedicated to the implementation of the new waste management legislation, presentations of current activities and projects by companies.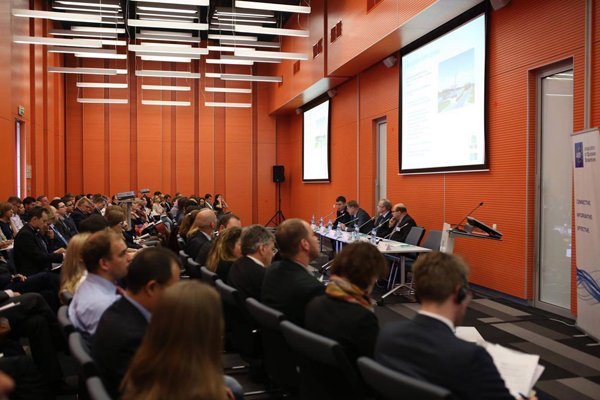 The event was moderated by Mikhail Divovich, Chairman of the Environmental Subcommittee, General Director, ECOTEAM. Ruslan Kokarev, AEB Chief Operating Officer, opened the first session stating the importance of the interaction between producers, importers, recycling companies and other organisations dealing with waste management as well as summing up AEB lobbying efforts on waste management legislation.
The administration of Dubna City presented its pilot project on separate waste collection, Julien Thoeni, Counsellor, Head of Economic Affairs, Finance and Science, Embassy of Switzerland in Russia, spoke about possible approaches to the waste management and sample cases from Switzerland. Michael Akim, Vice President in Russia, Belarus and Central Asia, ABB, gave an overview of the product lifecycle and recycling issues. Artem Rodin, Partner, Advocate, CMS, summed up the first session with his report on the opportunities the new legislation gives.
The second session was devoted to practical questions of implementation of the waste management legislation. New amendments to the current waste management legislation were analysed by Olga Filchenkova, Deputy Head of Unit on Economics of Environmental Management, Department on Economics and Finances, Ministry of Natural Resources and Ecology.
Best practices from producers and importers were presented by several companies. Mark Pavlov, Sustainability Coordinator, and Natalia Beneslavskaya, Sustainability Developer, IKEA, spoke on IKEA projects. Elena Timokhina, Corporate Relations Manager, Russia and CIS, Nokian Tyres, presented experience and main difficulties of the tire industry. Anton Poverin, Supply Chain Team Leader, Bayer, intervened on current pilot projects of the crop protection industry and took note of the import cooperation with regional authorities (e.g. the Voronezh region) in this field. Alexander Efimkin, General Director, ECOPOLE LLC, spoke on the new project of management of collection and recycling of empty crop protection product's containers.
Recycling companies (Ekaterina Radionova, General Director, KUUSAKOSKI RECYCLING, Patrick Boisits, Deputy General Director, EVN Umwelt Alexander Nenonen, Development Manager, Environmental Services, Lassia & Tikkanoja) presented their solutions of handling waste. Stanislav Samokhin, Alternative Raw Materials and Fuels Manager, Heidelbergcement Rus, made a presentation on the company's current and planned recycling projects. Andrey Fedorchuk, Technical Director, LafargeHolcim, spoke on use of alternative fuel in cement industry and ecologically safe approach used by the company.
Participants stressed the importance of further discussion of the new waste management legislation and sharing best practices.
The presentations are available for downloading HERE.
The photoreport can be found on our 
facebook page
.