17.12.2018
On 17 December 2018, Andras Horvai, Country Director of the World Bank in the Russian Federation and Apurva Sanghi, World Bank's Lead Economist in Russia, presented to AEB Members the 40th issue of the Russia Economic Report "Russia's Economy: Preserving Stability, Doubling Growth, Halving Poverty – How?".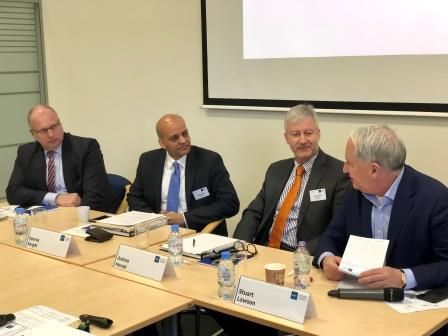 According to the World Bank's report, the growth prospects for 2018-2020 remain modest, forecast at 1.5% to 1.8%. Higher-than-expected oil prices could favorably affect the growth forecast. A sound macroeconomic framework, with relatively high levels of international reserves ($461 billion), low external debt levels (about 29% of GDP), and comfortable import cover (15.9 months), positions Russia well to absorb external shocks.
Photo (L-R): Frank Schauff, Apurva Sanghi, Andras Horvai and Stuart Lawson.