31.10.2017
On 25-26 October, 2017, Dmitry Cheltsov, AEB Customs and Transport Committee (CTC) chairperson, IRU, Wilhelmina Shavshina, AEB CTC Co-Chairperson, DLA Piper, and AEB CTC members, took part at the XVIII International Customs Exhibition and the largest Customs Forum on the Eurasian space.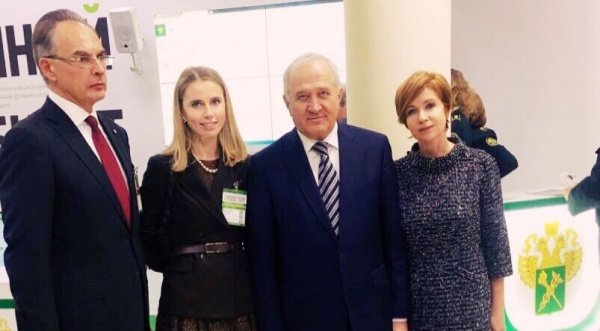 The exhibition and the forum were organized at the Expocenter, under the motto "Customs: simplicity and convenience, efficiency and security". Following the Customs Forum 1-st plenary session, the official opening ceremony of the XVIII International Customs Exhibition was held and Vladimir Bulavin, Head of the Federal Customs Service of the RF, and Anton Siluanov, the Minister of Finance of RF, Mr. Kunio Mikuriya, Secretary General of the World Customs Organization, addressed the participants and distinguished guests with a welcome speech. 
During the speech, Vladimir Bulavin, Head of FCS of Russia, declared ten steps towards business, which were highlighted in "The comprehensive program of the Customs Service development up to 2020". In response, Declaration on the support of the Charter of bona fide participants in foreign economic activity was signed by the Leaders of the largest Russian business associations at a Stand of the Public Council under the Federal Customs Service.
Thereafter, the AEB CTC members participated in the Forum's plenary discussion on "the Novelties in customs legislation", where the adjustments to the Russian customs legislation in compliance with the EAEU Customs Code were discussed. Another meaningful discussion was conducted at the round table on "Technical regulation in Eurasian economic union as an instrument of integration".  
On the second day of the Forum and Exhibition, the AEB Customs and Transport Committee members took a part in the round tables, which were devoted to a variety of important topics, including customs value, new customs technologies, law enforcement activity of customs authorities and other practical aspects of customs administration.
Photo L-R: Dmitry Cheltsov, AEB Customs and Transport Committee (CTC) chairperson, IRU, Ksenia Solovieva, AEB CTC Coordinator, Vladimir Bulavin, Head of Federal Customs Service, and Wilhelmina Shavshina, AEB CTC Co-Chairperson, DLA Piper