31.05.2018
On 31 May 2018, the AEB organised a reception on the occasion of the exhibition of paintings and drawings by Jacques Ikhmalyan at the Niko Art Gallery.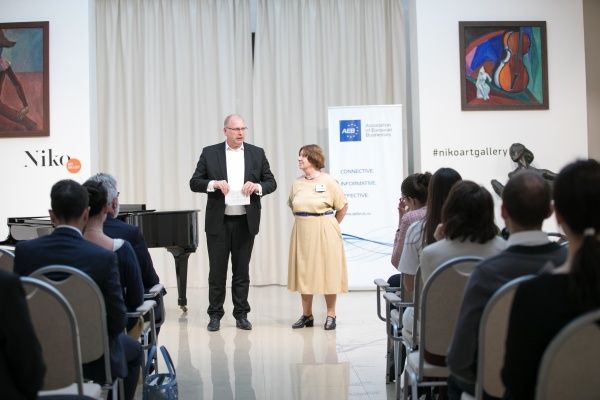 The exhibition is dedicated to the 95th anniversary of the artist. 
The welcome speech was delivered by Frank Schauff, AEB CEO, and Liliya Slavinskaya, artist and owner of the "Les Oréades" Gallery. 
Ms. Slavinskaya also conducted a tour around the exposition and shared her professional vision about the artist's unique style, unusual technique and worldwide legacy. 
Likewise, the attendees had a marvellous opportunity to enjoy the traditional Armenian music performed by duduk accompanied by the piano. 
The "Les Oréades" Gallery is happy to invite everyone to the Central House of Artists (Hall 13), where a collection of pictures and sculptures "My summer garden" will be exposed in summer 2018.
Federal Law 163.pdf

View/Open
Mailing message ENG.pdf

View/Open
Mailing message RUS.pdf

View/Open