23.03.2018
On 21 March 2018 the AEB PR and Communications Committee held its open meeting entitled "Key Trends and Challenges in Global Communications - New Tools to Promote and Protect Corporate Reputation".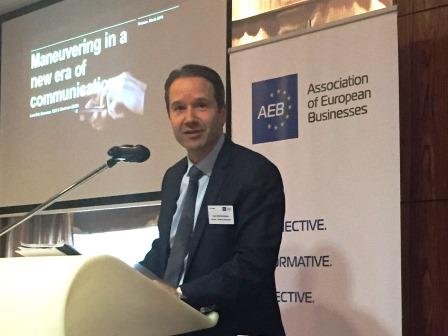 The invited keynote speaker Lars Erik Grønntun, Chairman & CEO, Europe, Middle East and Africa (EMEA), Hill + Knowlton Strategies, addressed in his presentation the importance of the Russian market to European business and investment, key trends in public affairs, crisis and corporate communications, and how digital is now the main platform for reaching customers, employees and diverse communities. 
The meeting will be moderated by Marina Tatarskaya, Deputy Chairperson of the AEB PR & Communications Committee, PR Director, Ferrero Russia.
Photo: Lars Erik Grønntun, Chairman & CEO, Europe, Middle East and Africa (EMEA), Hill + Knowlton Strategies
ENG draft Programme TIAF 2018 16.03.2018 clean.pdf

View/Open
RUS draft Programme TIAF 2018 16.03.2018 clean.pdf

View/Open