13.07.2018
Chairman of the AEB Board Mr. Johan Vanderplaetse met with RSPP President Dr. Alexander Shokhin on July 13, 2018.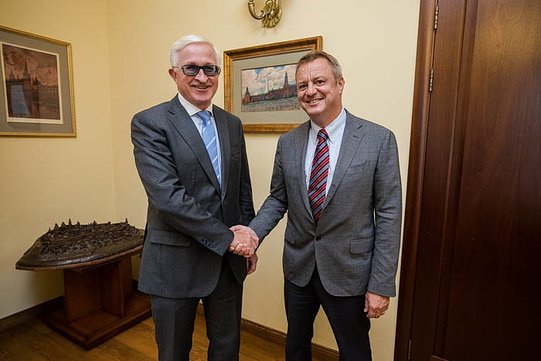 The discussion focused on the RSPP-AEB cooperation prospects, in particular on improving Russian business climate, addressing trade and investment barriers and advancing special investment contract legislation.
It was agreed to continue close business engagement. 
Photo L.-R.: 
RSPP President 
Dr. Alexander Shokhin 
and 
Chairman of the AEB Board 
Mr. Johan Vanderplaetse
AEB_Secretary_ JD_2018.pdf

View/Open
CLEAN Board Rules 2014 ENG.PDF

View/Open
CLEAN Board Rules 2014 RUS.PDF

View/Open
Barbolin.pdf

View/Open
Efremov.pdf

View/Open
27.08.2018 ENG IMAF programme.pdf

View/Open
27.08.2018 RUS IMAF programme.pdf

View/Open