01.11.2018
On 1 November 2018,  the AEB North-Western Regional Committee's Construction and Real Estate Subcommittee held an open event on "SHARE CONSTRUCTION REFORM - OVERVIEW FROM MARKET PLAYERS".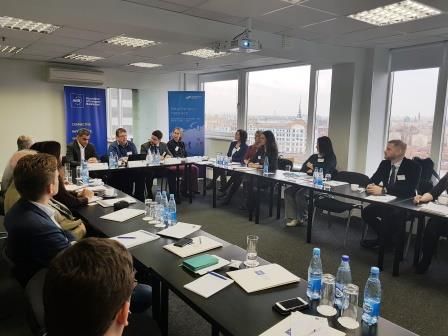 The participants of the roundtable were able to discuss the new reform introduced by the government in the area of residential construction which will come in force in July, 2019. How will the new requirements affect the residential real estate market participants? What difficulties may developers face when receiving bank guarantees? How will these innovations protect shareholders and change the market? What will happen to construction costs and housing prices? How will the transition from share to project financing be implemented? What are the mechanisms for financing residential real estate construction by banks? How does the State plan to control this process? These were the issues discussed during the event. 
Such speakers as Tapio Särkkä,  YIT Housing Russia; Dmitry Panov, Chairman of the Committee for Residential Real Estate, NP "Russian Guild of Managers and Developers" and the Chairman of the St. Petersburg regional branch of the All-Russian Public Organization "Business Russia", Arina Dovzhenko, Dentons, Oksana Matyuschenko, Raiffeisenbank presented their view on the issue.
Aram Gukasyan, the Director of the St. Petersburg State Budgetary Institution "Construction Projects Management" (Committee for Construction of St. Petersburg) was invited to provide the vision of the state to how the reform will be implemented and controlled. 
The presentations were followed by lively discussion.
The event was moderated by Tapio Särkkä, Chair of the AEB North-Western Regional Committee's Construction & Real Estate Subcommittee / Vice-President, YIT Housing Russia
The event was kindly hosted and supported by SCHNEIDER GROUP in St. Petersburg.
The presentations from the event may be found 
HERE
.
ENG_AEB Presentation_October 2018.pdf

View/Open
RUS_AEB Presentation_October 2018.pdf

View/Open