26.06.2015
On 25 June 2015, the AEB IT & Telecom Committee and its Working Group on Personal Data held a Round Table: "The Latest Cloud Solutions from the Leading Providers in the Context of the New Personal Data Legislation Requirements" dedicated to the general situation before law 242 enters into force and to cloud solutions in preparation for compliance with FL-242 requirements.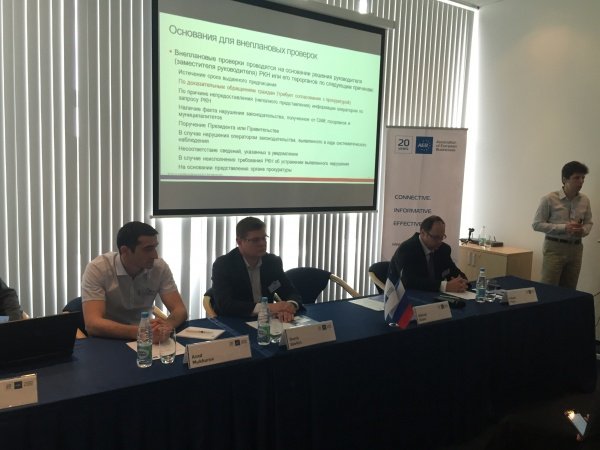 The speakers from important and global companies such as Cisco, SAP CIS, IBM, Oracle, Linxdatacenter, Detecon International GmbH, Orange Business Services, and Oracle focused on concrete steps that give AEB members the opportunity to find appropriate solutions and be ready when the FL-242 enters into force in September 2015. The meeting was moderated by Edgars Puzo, the AEB IT & Telecom Committee Chairman and Chairman of the WG on Personal Data.
L–R: Azad Mukhurov, Cloud Managed Services, Softlayer Leader, IBM Clouds Russia/CIS; Denis Savkin, Head of Centre of Excellence, Line of Business Solutions SAP; Edgars Puzo, Chairman of the AEB IT & Telecom Committee, Chairman of the Working Group on Personal Data, General Director, Atos; Mikhail Kader, Distinguished Systems Engineer, Cisco.
2015 - Перенос данных в Россию решения от Linxdatacenter Практический опыт v1 1.pdf

View/Open
Detecon AEB Cloud Computing_EN 2015-06-25.pdf

View/Open