08.09.2017
On 8 September 2017 AEB CEO Dr. Frank Schauff took part in a panel discussion session: Tax Policy – opportunities and alternatives at the Moscow Financial Forum. Among the issues discussed at the Forum were: How to maintain stability and predictability of tax conditions? How often will the tax legislation be changed? What is the general strategy of legislators? What changes in the tax system should be expected in the near future? What tax innovations will stimulate economic and investment growth?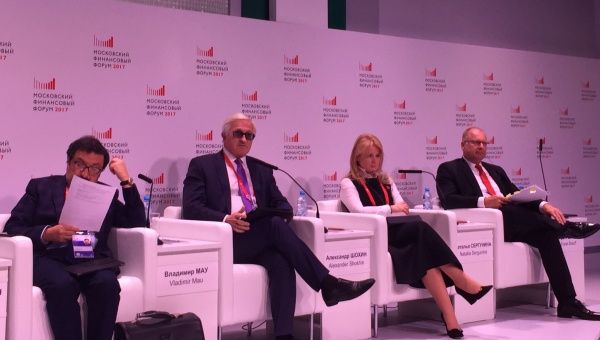 Moscow financial forum – is a unique platform for professional discussion aimed to build up effective solutions in the sphere of financial policy and enhance the competitiveness of the Russian economy.
The Forum is organized by the Finance Ministry of the Russian Federation in cooperation with the Moscow Government.
This year the Forum brings together government officials, representatives of business and expert community of international level, as well as public and political figures, who in the course of constructive discussion will determine key directions of financial strategy of Russian economic development.
Photo: L.-R.: Vladimir Mau, Rector of the Russian Presidential Academy of National Economy and Public Administration; Aleksander Shokhin, President of the All-Russian Association of Employers "Russian Union of Industrialists and Entrepreneurs", Natalya Sergunina, Deputy Mayor of Moscow for Economic Policy and Property and Land Relations, Frank Schauff, AEB CEO
AEB_Mediakit_2017_eng.pdf

View/Open