The Association of European Businesses is pleased to invite you to a briefing by Veronika Nikishina, Minister Minister for Trade, Eurasian of Economic Commission.
The event will take place on Friday, 07 February 2020, from 10:30 to 11:30 (registration starts at 10:00) at the AEB Conference Center, ul. Butyrsky val, 68/70, bld.1
The AEB would like to take this opportunity to express its most sincere gratitude to the Minister for this highly valued and fruitful cooperation, which the AEB maintains with the EEC for several years. The Association is most appreciative of the effort made by Ms. Nikikshina to find time in her busy schedule to meet with representatives of the European business in Russia.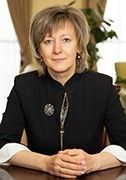 Member of the Board, Minister for Trade of the Eurasian Economic Commission since February 2016. (CV)
IMPORTANT NOTICE: This event is closed for non-members.