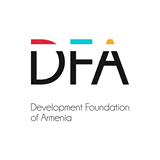 The Association of European Businesses is pleased to invite you to the Presentation of the Investment Potential of Armenia.
The event will take place on Wednesday, 23 March 2016, from 17:00 to 18:00 (registration starts at 16:30) at the AEB Conference Room.
The presentation will be held in English. Russian translation will not be provided.
Arman Khachaturyan, the CEO of the Development Foundation of Armenia (DFA), under the Armenian Ministry of Economy, being in charge of Foreign Investments, Exports and Tourism, will make a presentation addressing the AEB members.
The event could be of interest to the European firms working in Russia, interested in Armenia or wishing to know more about the possibilities of investing there as well, bearing in mind not only the local market, but also the regional one, especially with a view to using Armenia as a country to do business with neighboring Iran, a country with which Armenia has good relations.
Attendance fees
AEB members' participation for assigned representatives is free of charge;
Price for additional representatives of AEB members is 3,850 RUR (+ 18 % VAT);
Price for representatives of non-member companies: 7,700 RUR (+ 18 % VAT).
Contact persons:
Programme: Svetlana Lomidze, AEB Director for External Affairs, Chief Committee Coordinator, Tel. (495) 234-27-64, ext. 122; Svetlana.Lomidze@aebrus.ru;
Registration online: Tatiana Barysheva, AEB Events Coordinator, tel. (495) 234 27 64, ext. 127, Tatiana.Barysheva@aebrus.ru;
Login and password: Vera Solovaya, AEB Office Manager, tel. (495) 234 27 64, ext. 149, Vera.Solovaya@aebrus.ru.