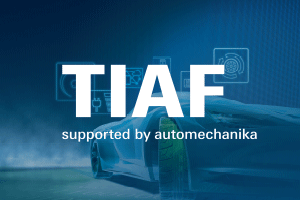 The Association of European Businesses (AEB) is pleased to invite you to TIAF—2019 (5th Tatarstan International Automotive Forum), organised in cooperation with the international exhibition operators Messe Frankfurt and Kazanskaya Yarmarka, and supported by the Ministry of Industry and Trade of the Republic of Tatarstan.
The Forum will take place in Kazan, 26—28 February 2019, and will bring together high-ranking officials from Russian ministries, CEOs of leading Russian and foreign automobile manufacturers and automotive component producers.
Delegate fee — 10 500 RUR;
TIAF—2018 participants — 10 000 RUR;
AEB members/2nd delegate — 9 500 RUR;
B2B meetings (optional) — 7 600 RUR  — only for the participants of the Forum;
At TIAF—2019 the following events will be held:
• a conference on the outlook for the automotive industry, autonomous driving, new challenges, as well as localisation issues and procurement;
• an exposition of automobile manufacturers and producers of spare parts and components;
• B2B meetings with automakers;
• a visit to production facilities. 
Contact persons on the Forum's programme and sponsorship:
Asker Nakhushev, asker.nakhushev@aebrus.ru, + 7 495 234 27 64, ext. 116
Anastasia Kondratieva, anastasia.kondratieva@aebrus.ru, + 7 495 234 27 64, ext. 126
If you would like to visit TIAF 2019, please contact Daria Boldyreva daria.boldyreva@russia.messefrankfurt.com, +7 495 649 87 75 ext.165
In the framework of the Forum, there will be held an international exhibition of car components, spare parts and equipment for car service centers.  
It is the largest and the only regional exhibition in the Volga region, which opens new opportunities to the exhibitors  and helps them expand the number of business partners and sales geography by establishing contacts with the target audience — business representatives from Tatarstan and Privolzhsky Federal District.  
To participate in the exhibition, please contact Olga Kondrashova,  project manager, at + 7 843 2122144 (Kazan').
Registration for mass media
Please see attached the draft programme in RUS and ENG, partnership and sponsorship opportunities, a hotel booking form and a press release in Russian.