24.05.2018
On 24 May, 2018, the AEB Insurance and Pensions Committee held an open event titled "Online solutions in insurance and pensions".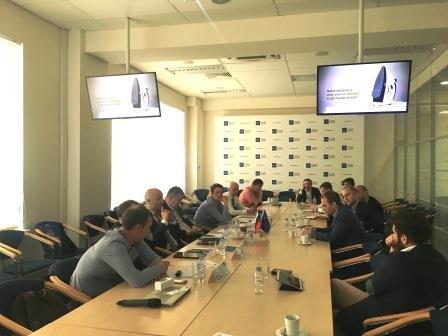 The event on electronic insurance was organized by the Committee for the fifth time. It was opened and moderated by Alexander Lorenz, AEB Insurance and Pensions Committee Chairman.
Dmitry Kudlov, Central Bank, shared with the participants the recent developments and trends in legislative and regulatory framework of electronic insurance in Russia. Tadzio Schilling, EY, spoke about digital transformation in the insurance and pension industry, its trends, risks and opportunities. Timur Gilyazov, MetLife JSC;  Dmitry Tuzhilin, SAFMAR NPF AO; Anton Kosachev, AlfaInsurance; Ilya Kosolapov, Project Socratus; told about their experience, solutions and practical aspects in the electronic insurance and pensions market. 
The participants actively discussed recent trends and developments in online solutions in insurance and pensions in Russia, such as smart contracts, market place, blockchain examples, etc.
The presentations are available here:
The programme of the event is available 
HERE
 (in Russian).
Photo: participants of the AEB open event "Online solutions in insurance and pensions"
Program_24.05.2018_RUS_FINAL.pdf

View/Open
Presentation_Gilyazov.pdf

View/Open
Presentation_Kosachev.pdf

View/Open
Presentation_Schilling.pdf

View/Open